I haven't received any posts since 23 March.
Hope all is well with everyone
Regards
Peter Leolkes
Adelaide
89 synchro
Hi Peter,
I have noticed that you only get emails when you start or reply to a post.
Otherwise you need to log in regularly to see what is going on.
This has been said before, just in case, saying again …
Can't find posts in your email box?
Look in your junk drawer?
Scott, once my forum password is saved by my computer, I now never need to log back in each time. Works for me. Should work for Peter too?
Cheers.
Yes that should work Ken

Responding to a roll call.
My Syncro is now in solitary confinement, however it does get the odd outing to the supermarket and a drink of go juice at the petrol station. Alas, that is all the exercise it gets during this pandemic time. Still, being patient is better than being a patient.
Hi Syncronauts,
I think all of our Syncros are in "isolation lockdown".
None of us would want our trusty steeds picking up a virus through a VW community event.
So, consequently there are no sorrowful tales of unforeseen breakdowns, catastrophic bingles or intermittent malfunctions that we can share.
So, here's hoping that the current isolation will last long enough now to find remedy for those niggling idiosyncrasies, and tick off those constant upgrades we keep putting off…so that in time our Syncros will be ready to jump out once again to explore this vast country.
Anyway, for now it's back to the bunker.
Gerald.
Mine only gets a run each day down to see my elderly Mum to take her for her exercise walk out through the nursing home grounds. I get temperature check and grilled every day about movements but at least I get an outing and so does my Mum.
Looking forward to some much longer distance travels and camping fun!
Giving her a run every week or two. Lockdown is weird… Staying local and getting exercise and working in essential services. Hang in there Syncronaughts!
Good to hear from you Gerald. It is certainly interesting times. But as you say time to all those jobs we have been putting off. I replaced the rubber grommet around the sliding door handle and insulated/sound proofed it at the same time. Still more jobs to do like putting in some rear speakers and tweeters in the front like you have. Plus the usual TLC with elbow grease. A run around the town every few days helps as well. Always have an excuse as our local Bunnings has never been busier. Cheers, Peter
Hi Peter,
I know you just lurv some show n tell time !
I"m thinking I may have reported this previously … memory fails.
I was unhappy with the OEM sliding door handle outer rubber grommet (or escutcheon as GoWesty calls it):
Goto: Escutcheontrim for sliding door handle – GoWesty
Also this other part fits between the back of the handle and the front of the escutcheon …
Foam gasket for sliding door handle passenger side – GoWesty
and this schematic showing the locations at positions 25 and 29: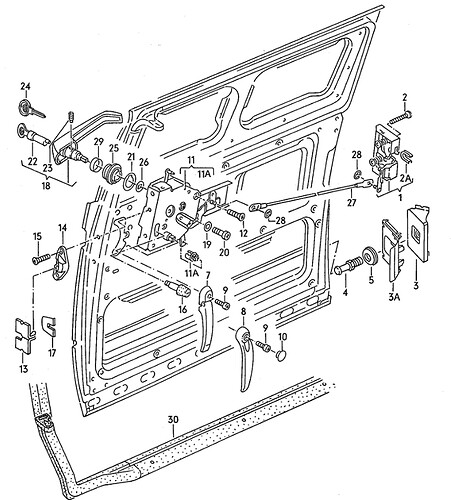 So over the years I noticed they just split or crumble and fail. Also, being rubber, figured grommet doesn't offer any rigid support at all for the diecast handle, I checked other vans and found the same problem … grab the handle, test for handle wobble and they all did.
At the time, I browsed and found online a delrin bush available, tailor made to replace the rubber OEM version … it's a perfect snap-in fit, tough as and eliminates all handle wobble. I'm expecting it will last the life of the van: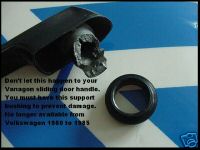 Downside is, if anyone wanted one, think this delrin version sadly MAY now be NLA.
It is much dearer, (likely due to limited production run), but given I'm expecting it will last forever plus eliminates handle wobble too, was a no brainer for me.
Any interest, let me know.
Peter, if you came up with a different solution, I'm partial to a reciprocal show n tell too!
Cheers.
Love one of those Ken.
As you say they are hard to find.
TheSamba.com had a listing I think but I cant find it and with our crappy dollar - everything needs to wait.

Anyone else?
I bought one from here:
That was in 2013 though. Still listed on eBay it seems.
Hi Peter,
Van Cafe # 251 843 711A for the sliding door grommet.
Had it installed Oct 2015.
So far it's ok.
Gerald.
Thanks Jon.
That link seems to still work.
Cheers,
Scott
Hi Gerald. I got mine from Gowesty with another order. Will just keep an eye on the rubber one. If it wears I will try and get the delrin one.
The sliding door sounds so much better with the insulation/soundproofing. I bought two more rolls to do the front doors. I have been getting a little bit of consulting work and house catch up jobs seem to be getting in the way of the more important Syncro jobs.

Noted thanks Ken. Will keep an eye on the Gowesty one. I also put in the foam washer. Its tricky though as you have to put it on before installing the rubber grommet. Just requires patience as with most Syncro/T3 repairs. Cheers, Peter
Scott,


The seller previously on The Samba and presently on ebay is the same guy.


I believe there's no other source for the delrin bush, so other suppliers are selling the inferior OEM rubber grommet.


I suggest sending an ebay mail enquiry to seller about shipping price to Oz, the ebay listed shipping price is clearly wrong. Got mine in a small size envelope and much cheaper postage via USPS standard postal service.

This guy is also a supplier of quite a range of different style and vehicle model replacement VW ignition key blanks and/or precut to order as per key code and even from a photo.